2048 Billiards 3D
Approved for all ages
2048 Billards 3D - add up colorful billiard balls!
2048 Billards 3D is a fun mix of billiards and 2048, in which you can merge billiard balls with numerical values and add them up.
Level up the billiard balls to a higher numerical value by matching balls with the same values. Add them up to larger and larger totals. Start as in the classic 2048 with 2, 4, 8, 16, 32, 64 and so on up to 2048 and reach sums beyond that. In each level you will see at the top of the billiard table the number you have to reach.  If you get a ball to this value in one round, you move on to the next level and further challenges.
You aim with the mouse or by tapping. Hold down the left mouse button or your finger. A line will then show you where you are aiming. Let go to shoot your billiard ball. Sometimes it is also worth not to match, but to use the ball to shoot other billiard balls into a better position and let them touch, so that they merge. Make sure that the playing field doesn't get too crowded and use the two booster balls once in a while to reach the level goals. You can buy these with coins that you earn by playing well.
More cool math games
If you liked 2048 Billards 3D, then play 2048: X2 Merge Blocks!
Swing the virtual cue again in this new mix of billiards and number games and play 2048 Billards 3D free online on KibaGames!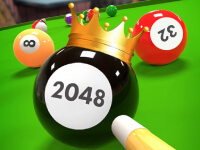 2048 Billiards 3D
Originalname:
Game Hits:
0
Online since:
08.
10. 2022
Developer: