Slice A Lot
Approved for Ages 6+
Slice A Lot - cut your way free!    
Slice A Lot is a fun skill game where you can throw a knife in the air and cut down all the obstacles in front of you.    
Tap or click to throw the knife upwards. Cut up the oranges and cubes in front of you to cut your way to the finish. You may already know the gameplay from the app Slice It All! Remember, of course, that only the blade will slice things and the knife handle will bounce off objects. So be smart so that you can earn lots of points with your cuts and buy new knives and cutters in the store. This makes knife throwing even more fun and more effective with sharper blades!    
This novel jump and run game will inspire you! Let the blade do the talking again and play Slice A Lot free online on Kibagames!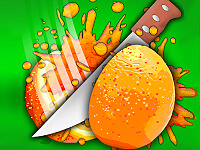 Slice A Lot
Originalname:
Game Hits:
294
Online since:
01.
11. 2021
Developer: