Santa Cooking
Approved for all ages
Santa Cooking - Cook for the Christmas elves!
Santa Cooking is a fun cooking game in which you'll be able to provide burgers for the Christmas elves at the North Pole!
The North Pole is hard at work during Advent! To give his helpers a chance to eat, Santa has prepared a burger stand. In a total of 50 levels, you have to appease the hunger of the elves so that they can continue to produce presents. The wishes of the little helpers include soft drinks, fries and burgers. At the beginning you don't have many hotplates or fryers at your disposal, but with the money you get after completing levels you can upgrade your stand. You can access the upgrades in the level overview under "Upgrade".
Before each level you will be given goals to achieve. For example, collect a certain number of likes, serve a certain number of customers or cook a certain number of dishes.
Keep a cool head at the stove!
In the beginning, the elves only make one request and the cooking, frying, topping and serving is quite relaxed. In later levels, however, it will quickly become hectic, as more and more wishes per customer are added. A speech bubble shows how they want their burger topped and how long their patience will last waiting for the order. If the time runs out, you've lost a customer. So manage your customers' time and requests wisely and keep your cool!
Tip: If you notice that someone with several requests is running out of time while you are serving several customers, try to fulfill the easiest request first, because this will fill up the patience bar again.
More exciting time management games
If you liked Santa Cooking, why not play Virtual Families: Cook Off?
Cook delicious fast food with Santa now and play Santa Cooking free online on KibaGames!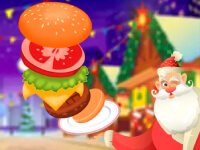 Santa Cooking
Originalname:
Game Hits:
0
Online since:
25.
12. 2022
Developer: