Plug Head 3D
Approved for all ages
Plug Head 3D - win with the plug man!
Plug Head 3D is a fun skill game where you can collect lots of electricity points with a plug man and find your way through the socket course.
Use the mouse or swipe back and forth to collect the electricity points. Either you need a certain amount of energy items to open the gates in front of you, or you can wait in front of an outlet station until you plug in your manikin. Then the socket will turn to the next section of the race track. So, with a good eye for the best opportunity, race your Plug Head 3D to the finish line and win extra points once again. Make sure you never run out of power and master lots of fast levels!
Can you win this power-packed race? Run fast and play Plug Head 3D free online on Kibagames!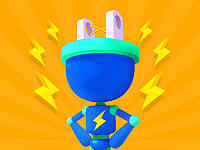 Plug Head 3D
Originalname:
Game Hits:
124
Online since:
25.
01. 2022
Developer: