Music Garden
Approved for all ages
Music Garden - mix your own songs with musical flowers!
Music Garden is a cool music game where you can arrange and mix your own songs with singing and making music flowers.
Click or tap on each flower and drag them to the garden playfield to make them sound and make music. Click or tap each flower to make it play different sound effects and become a music producer in the Music Garden! You can also click or tap to turn them off again. If the flowerbed gets too cluttered, you can drag the flowers back to their stems.
Combine different instruments and melodies, integrate sung passages or create new songs without any vocals at all. Every song is unique! Use the watering can, the bee or the cloud to walk over the individual flowers and create additional sound effects. Numerous great songs are created without any effort or prior knowledge - Music Garden lets you produce your own music and compose your own songs very easily!
There is a lot of rhythm in this new children's game! Mix your own tapes now and play Music Garden free online on KibaGames!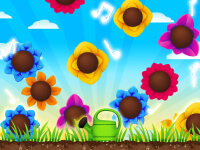 Music Garden
Originalname:
Game Hits:
0
Online since:
03.
04. 2022
Developer: