Kings and Legends - Browser games for free on KibaGames
Kings and Legends is an incredibly fun, fast−paced tactical Collectible Card Game. Open booster packs to reveal a variety of cards from 7 different races and build a powerful deck to take to battle. Choose from 1 of 4 unique classes and exploit its unique skill set to your advantage and play−style.
Create an epic deck of over 250 unique playing cards
Compare yourself in battles with up to 8 players
Experience epic adventures and battles in an intense and challenging campaign
Build your own capital town and attack the other towns of other players
Perfect your gear in the forge
Strengthen your army through the power of alchemy and try your chance in the auction house
Kings and Legends pits a massive range of creatures and races against one another in an almighty battle for supremacy. Mix n' match your creatures to find the right balance and attack strategy. Each creature's individual abilities can be used to complement another's and make sure the action always remains interesting. Work with your allies in upto 4vs.4 PvP battles and Co-operative Challenges or practice your new Deck-builds in the +100 Stage single-player campaign and the Arena!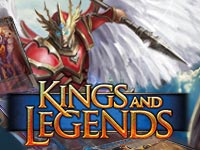 Kings and Legends
Originalname:
Game Hits:
4.239
Online since:
10.
03. 2016
Developer: