Historic Cosplay Social Media Adventure
Marie Antoinette or Amelia Earhart?
Historical Cosplay - style women of history!    
Historical Cosplay is a fun dress-up game in which you'll be able to style four girlfriends as historical figures.   
The girlfriends are in the mood for a costume party and choose different historical figures to dress up as. Pilot Amelia Earhart is among them, as well as singer Elvis Presley or Princess Marie Antoinette. Style the four girls in baroque robes, in aviator dresses or as artist Frida Kahlo in Mexican costume.    
Combine them with the right accessories like a fan or a guitar and create a post for their Instagram account. Use filters and stickers and collect prizes for popular posts, which you can use to unlock more items.    
Style the looks of the icons of the past now and play Historical Cosplay free online on KibaGames!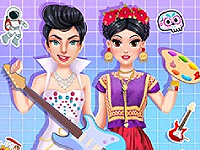 Historic Cosplay Social Media Adventure
Originalname:
Game Hits:
0
Online since:
01.
10. 2021
Developer: