Hero Zero
Approved for Ages 12+
| | | |
| --- | --- | --- |
| Attention: If you have an old HZ account, make sure you log in to the correct server, UK5. All new players can register on the Hero Zero page directly for free and start playing. | | |
Hero Zero - from a bore to a superhero!
In this RPG browser game you become a heroine or a hero and compete against criminals and villains in a fun and action-packed universe. Fight against evil and bring peace and justice!
Of course, you'll start small: in Hero Zero, your heroine or hero will start in her underwear and won't have any money to buy a cool costume and equipment. So you'll have to get your new look at the second-hand store first, which promises to be no less fun. Maybe you'll choose the emerald green bathrobe or the half-finished cucumber mask for your outfit?
You see, in Hero Zero superheroes aren't taken all that seriously - you're the regular guy from the neighborhood. But don't worry, all options are open to you! The starting point is your secret base, which is located under your house in Humpreydale. Build your own area here with many useful buildings and rooms that produce not only resources, but also coins as a reward for your work. Customize your hideout - from super glue workshop to generator room, every superhero need can be fulfilled here.
Tactics, muscles and intrigue - this is how you play Hero Zero
Your heroine or hero has a total of four different stats in Hero Zero:
Strength
Stamina
Brains
Intuition
You can improve each of these four attributes with equipment that is available in the store. You earn coins for them through missions. Just look around the neighborhood, there are lots of people who need your help! Per level you also get the opportunity to increase attributes for free.
Tips and tricks: engage in exciting duels with nasty villains!
Only successfully completed combat and time missions, side jobs and training will make you a real heroine or hero in this browser game.
In various missions you have to defeat villains and make the world a safe place. Well, maybe you'll start small and help sports director Eddy from the local high school to save the Summer Olympics. By the way, delicious donuts are available as a time booster - if that's not a great incentive!
But if you want to establish yourself as a superhero with an international reputation at some point in the future, you'll need a lot of practice and face the competition.
Fight in exciting duels with your weapons against other supposed heroes or nasty villains.
Climb up the player rankings through your victories.
Team up with other heroes for special events, when particularly evil creatures are unleashed on the city and you need to fight them together.
Thus, in Hero Zero you'll also strengthen the sense of community of the entire group. You'll see that Hero Zero combines single and multiplayer with unique graphics and a lot of humor. There's always something to laugh about here!
Become a superhero now and play Hero Zero online for free at KibaGames.com!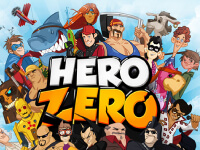 Hero Zero
Originalname:
Game Hits:
336
Online since:
01.
02. 2022
Developer: