Goodgame Empire
Approved for Ages 16+
Goodgame Empire - create your own kingdom! 
Goodgame Empire is an exciting medieval strategy game in which you'll be able to enter the annals of the medieval game world as a powerful king and rule over the largest and most influential empire.  
Have you always wanted to put on armor and go out to battle on horseback? Is it in your blood to build a mighty kingdom and become the most powerful ruler of all? Then Goodgame Empire is the right game for you! Goodgame Empire requires all your skills as a medieval ruler! Or are you more of a fearless ruler?    
Immerse yourself in the world of the Middle Ages with its castles, knights and damsels. Honor and glory must be earned here: start with a few small wooden buildings and expand them to a stately castle. The raw materials stone, wood and food must be used skillfully. Collect taxes in the form of gold and expand your home with barracks to house your soldiers.   
Establish your own dominion, defend your castle from marauders and trade valuable goods to keep your subjects and troops happy!    
In the great Winter Offensive you can meet the warrior Diana and her Wildland rebels! Lots of snow, fresh characters and many other new features are already waiting for you!    
How to play Goodgame Empire    
At the beginning you get your own castle from which you have to expand your influence on the surrounding countryside. Expand your castle and erect more buildings by using your brains and tactics to solve tasks and earn resources. As a master builder, you have over 60 interesting building types at your disposal. Motivate your craftsmen and get started right away!    
Build magnificent townhouses to live in.  Build a lucrative quarry to extract raw materials.
Create a profitable farm to grow food.
Trade in the marketplace and store your valuable items in the warehouse.  Also take care of your horses and build enough stables. Increase food production with the mill.
Play Goodgame Empire on Kibagames also as a cool fighting game. Gather soldiers around you to defend your magnificent castle and plunder other castles. Conquer outposts and expand your sphere of power. As an honorable leader, will you rather engage in direct combat or resort to means such as sabotage and espionage? Have you already planted your informer in the entourage of your opponents? Are you responsible for the latest plague in the enemy camp?    
Tips and tricks: how to form alliances in Game of Towns   
After the big update Game of Towns you can build a powerful metropolis together with the alliance in Goodgame Empire and make it the capital of the great empire. Forging alliances is always a good idea, because you can exchange goods, implement strategies together with others and protect yourself from your opponents.    
The prerequisite for founding an alliance city is that you create your own noble house and then start building the residence city.
Then you can fight for the latest achievements in Goodgame Empire and conquer the supremacy in the metropolis.
Collect the king tokens and coins that you are entitled to as a shrewd leader through courage and tactical actions and climb up the rankings.
With the king tokens you can also expand your defense, buy new decorations and treat yourself to a new suit of armor or an impressive helmet. Don't forget to win the valuable bonuses of the medieval game and exchange information about your latest adventures with other players in the Goodgame Empire forum.     
Points events for even more variety    
For even more variety, Goodgame Empire offers point events like the Spring Night Festival or recurring events like "Samurai" or "Nomads". The more points you earn here, the more rewards you will receive. If you make it to the list of the best players, you can get extra rewards. You can also look forward to new game elements on these occasions:    
Tools
Troops
Equipment
Heroes
Decorations
After you complete the scoring events, you can also play in the Goodgame Empire master level and earn even more points and rewards. Also, take advantage of the regular events for holidays like Christmas or Easter, the summer specials or the Halloween event to buy discounted equipment and other items.   
Will you take up the challenge and build your medieval empire? Then play Goodgame Empire for free on Kibagames now!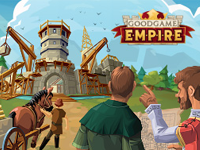 Goodgame Empire
Originalname:
Game Hits:
4.678
Online since:
07.
09. 2021
Developer: