Please note: 
Dear KibaGames players, 
from October 27th (Empire) and from presumably October 28th (Big Farm) we will migrate the login of the Goodgame games Empire and Big Farm. This is done for technical reasons and at the same time offers you a better gaming experience, as you will be able to access the games and the regular game version from anywhere. You will no longer need to log in with your KibaGames account to play these games, but can use the normal Goodgame login. Important: your progress in the Goodgame games will be preserved when moving to the new game version.
You can also continue to log in to KibaGames as usual to post comments or in guestbooks.
At the start of the migration we will release the new game versions of Empire and Big Farm parallel to the existing Goodgame browser games. In the old game version you will see a window with information about the account transfer when starting the game. Just follow the instructions and you will be able to log in to the new game version and continue playing with your old progress.
We expect to deactivate the old Goodgame game versions on November 30th.
If you have any questions, please contact info@kibagames.com. If you have any technical problems, please contact the in-game support address.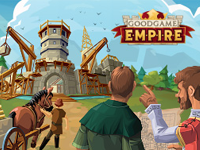 Goodgame Empire
Originalname:
Game Hits:
2.122
Online since:
07.
10. 2011
Developer: