Goodgame Big Farm
Approved for Ages 12+
| | | |
| --- | --- | --- |
| It's Big Farm's birthday! Celebrate from Oct. 28th to Nov. 7th and receive great gifts for the 10th anniversary! For the achievement of community goals, Goodgame is planting trees as part of a charity campaign. Have fun! | | |
Goodgame Big Farm - manage your own farm!  
Goodgame Big Farm is an exciting farming game where you can build and cleverly manage your own small farm and take care of your animals and fields.     
With a lot of skill and planning, you can succeed in becoming a real big farmer. To do this, you'll have to create fields, take care of animals, take care of workers and manage your farm. Thus, over time, you can expand your farm in this popular multiplayer and become the most famous farmer in Goodgame Big Farm together with other players.    
From hobby gardener to professional farmer - this is how you play Goodgame Big Farm    
Your path to becoming a big farmer in Goodgame Big Farm is long and arduous, but very fulfilling.    
It all starts with tilling your fields and later harvesting them, while taking care of the animals you accumulate on your farm over time.
Once the time of harvesting has come, you'll immediately start processing the goods you've received, turning them into either new products or animal feed for your farm.
Tips and tricks - buy and sell agricultural products    
Agriculture comes from economy. This is where the economic aspects of Goodgame Big Farm start, because buying and selling goods on the market needs to be well thought out and is an important pillar on the way to becoming a successful farmer. That's why you shouldn't do this work in this online game completely on your own, but rather rely on your staff.   
In the course of the game, hire capable workers and assign them work.  Keep them satisfied and thus not only keep costs low, but also build a happy and profitable farm.
With the right fleet of vehicles you will become even more successful: buy your first tractor and combine soon and invest in good harvesting machines.
But Goodgame Big Farm also offers you a lot of other exciting content. Compete against other farmers, visit their farms and watch their progress in various disciplines. Or team up with your friends to have even more success with your farm.   
And don't miss the regular events where you can buy items on a discount!
Now get on the tractor and get into the barn! Play Goodgame Big Farm free online at Kibagames and get your farm up and running!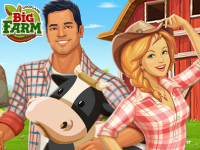 Goodgame Big Farm
Originalname:
Game Hits:
84
Online since:
07.
09. 2021
Developer: