GOODGAME Big Farm
Uncle George has left you his farm, but unfortunately it's in pretty bad shape. Using business skills and the help of your neighbors, family and friends you can turn the overgrown barnyard into a beautiful and prosperous farm again. Plant the right crops, harvest and process them, care for your animals and make sure that your workers are happy – this is how your farm will grow successfully.
Your project, your success, your Big Farm.
GOODGAME Big Farm OFFERS:
·         Appealing plot with a progressive storyline
·         Cheerful comic book style graphics
·         Funny characters with individual stories
·         A variety of tasks
·         Realistic economic cycle
·         In-depth processes which impact one another
·         Competitions, tasks and other regular events
·         Collaborate and cooperate with other players from all over the world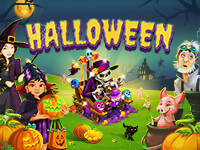 GoodGame Big Farm
Originalname:
Game Hits:
1.493
Online since:
07.
12. 2012
Developer: