Family Barn (New Version)
Attention: New version with Azerion Connect Login!
ATTENTION: This is the Family Barn version with Azerion Connect login!    
Dear KibaGames player,
if you haven't transferred your old Plinga account yet, please follow this link: https://www.kibagames.com/Transfer/Plinga   
Here you will find more info and instructions for the account transfer. 
This only applies to players who want to move their old progress. If you are new to the game and do not have an account yet, you can play normally here. 
Family Barn - get a breath of fresh country air!
Family Barn is one of our most exciting management games and is played as multiplayer together with many other nature-loving KibaGames players. 
At the beginning of the cheerful online game you will be given a cow and a piece of land to manage. What will you name your Holstein cow? Berta is a classic name for the gentle animals, but maybe Elsa or Lucy would suit her better? Your new friend is already giving milk, which you can then process into cheese or other dairy products. It will be delicious!    
How to play Family Barn    
Of course, such an animal also wants to be fed, so in Family Barn you will learn to cultivate your fields and bring in good yields. Get on the tractor and harvest the hay or grow delicious vegetables and fruits.  Plant a classic vegetable garden with basil, tomatoes, radishes and carrots.  
Also grow very special plants that you don't find at the market every day:
Chardonnay grapes, lavender and vanilla are sure to give you a lot of profit.
Exotic plants like cactus or water rice also thrive in village life.
Planting grain is also always a good choice, make flour from it to bake crispy rolls.  For your animals you need to plant clover and daisies to keep them happy and healthy.
Your beautiful black and white cow will not stay alone in Family Barn for long, many other animals are already waiting to move into your big stables.
Let bees pollinate your flowers and produce delicious honey.  Collect eggs from your many clucking chickens.
Keep angora rabbits and brush out their hair to make wool.
As pets you can of course keep dogs, because what is a real farm without a farm dog? Will you choose the husky or the dalmatian? Put your new companions in a proper doghouse, so that your darling can have a rest.   
Sell your goods and hard-earned products to expand the equipment of your farm in the store. Buy useful things like new fertilizer or a big wheelbarrow and don't forget the treats for your animals!   
Decoration, landscape and buildings - design your farm according to your wishes    
In Family Barn you can of course add the popular decorations to your farm. No homestead without a garden fence! Or would you rather buy a blue mailbox? Of course you can also put up your own country flag: from South Korea to Mexico you can find flags from all over the world here. Also have a look in the gift box and let yourself be surprised!   
If you want to make your game even more individual, you can also choose from a number of themes to play in. The standard theme is your green meadow.    
However, depending on the level, there are also further background design options available to you.    
Seasonal themes: The ice theme or the earthy autumn.
Holiday themes: Easter, Halloween and Christmas have their own theme.
Terrain variations: the beach section, the pastureland or the desert offer plenty of variety.
Tips and tricks for even more success in the game    
To have even more success in Family Barn, you should take the following tips to heart:    
Remember to reseed immediately after harvesting, so that you can quickly harvest new plants again.
Invest your farm money in farm supplies such as fertilizer, watering cans, thunderstorms and rain to speed up the ripening of your crops.
Help your fellow players and get help yourself when you visit each other: together you can do more farm work than alone and do it in less time.
Sowing and harvesting with joy - even more fun in the countryside
From the field to the barn, from sowing and planting to the weekly market, in Family Barn you will find all the game elements you could wish for in a farm game.
Become a successful big farmer and find numerous new friends, with whom the game is even more fun. Family Barn impresses not only with lots of great content, but also with incredibly cute graphics, cute animals and a beautiful world.    
More free management games with cute animals    
And if you want to play some more farming games, check out Farmerama and Goodgame Big Farm as well. In The Farmer 3D you can also train your skills in tractor driving.  This will make every farm fan's heart beat faster!   
Are you ready for country life, green meadows and the smell of hay? Then play Family Barn free online on KibaGames and become a happy farmer!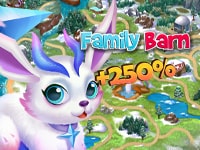 Family Barn (New Version)
Originalname:
Game Hits:
0
Online since:
01.
09. 2021
Developer: