Draw Bridges
Approved for all ages
Draw Bridges - draw bridges for a rolling ball!
Draw Bridges is an exciting skill game in which you can draw bridges to get a ball over an obstacle course and safely to the finish line.
To do this, hold down the mouse button and draw bridges in front of the ball. Of course, there are also obstacles in your way, such as can towers and block towers, which you should avoid. On the other hand, don't miss the bonuses on the track. For example, you can roll through a jumping hoop that will accelerate your ball. At the end of the levels, use a multiplier that can increase your points from 1x - 10x. Draw a bridge here as well, so that the ball gets to the 10x multiplier and falls into this particularly valuable compartment.
During the drawing process, Draw Bridges slows down so you can take your time thinking about how you want to draw the bridge. But don't think too long - find the right measure.
Then buy different balls for the money you've earned, all of which have different properties. The soccer ball is especially fast, the billiard ball does not bounce and the tennis ball is especially small and fast.
You can earn money not only by completing levels, but also by viewing additional advertisements in the purchase menu. This will allow you to unlock a random item.
Other free minigames
If you liked Draw Bridges, then play Tallman Run or check out our game tips.
Become a virtual bridge builder and play Draw Bridges free online on KibaGames!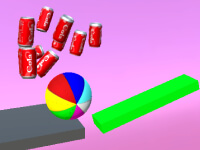 Draw Bridges
Originalname:
Game Hits:
0
Online since:
13.
09. 2022
Developer: