Dessert Dress Up
Approved for all ages
Dessert Dress Up - style an outfit in Candyland style!
Dessert Dress Up is a cute lifestyle game in which you'll be able to dress up a girl with clothes full of candy motifs.
Revel in a selection of clothes straight out of Candyland and put together an imaginative outfit. Even if the look isn't particularly suitable for everyday wear, you can certainly wear it to celebrate carnival or a theme party. First decide on the outer appearance of your candy girl and also choose different elements and colors of the hairstyle. You can decorate the mop of hair with a hair band in candy stripe look or a hair wreath made of marzipan roses.
Then combine the most beautiful tops and skirts with cute decorations. How about a skirt with donuts or sugar sprinkles sewn on it? And puff sleeves in the shape of raspberries or delicious cupcakes? With lots of colorful sugar decorations and candies, the Candyland theme is perfectly realized. And a handbag in cake design, a cherry bracelet and a cupcake hat will also provide lots of fun in Dessert Dress Up.
Then choose a nice background in pastel colors with balloons, gummy bears or fluffy marshmallows and save your picture to your computer or smartphone.
Put together a cute outfit now and play Dessert Dress Up free online on KibaGames!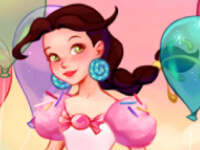 Dessert Dress Up
Originalname:
Game Hits:
0
Online since:
22.
05. 2022
Developer: