Daddy Rabbit
Don't leave any bunny behind!
Daddy Rabbit - save the baby rabbits from zombies!   
Daddy Rabbit is a cool kids game where you can save lots of baby rabbits from evil monsters with a daddy rabbit.    
Play through lots of levels in this farm rabbit hole and control Daddy Rabbit with the mouse, WASD or by tapping through the maze under the ground.     
You can shoot carrots with the space bar.     Attention: you can change the control in the tutorial only after some game progress from the mouse to the keys and then also play faster.    
Collect lots of carrots on the farm in the flowerbed, with which you can feed the rabbit kids and also shoot at the dangerous zombies. It's almost Halloween and somehow the nasty undead have managed to invade the rabbit hole and scatter the flock of children. Collect them and leave no baby behind.     
In the underground passages you'll also find strawberries, which will also replenish your supplies, as well as valuable coins and diamonds, which you can use to pay the mole to let you use his tunnel.     
Another tip: with B you can put the children to sleep, so that they are quiet and the zombies can't notice them.     
Now hop through numerous levels in the rabbit hole, quickly collect the precious vegetable ammo, save the Bunnies and play Daddy Rabbit free online on Kibagames!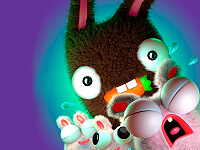 Daddy Rabbit
Originalname:
Game Hits:
37
Online since:
22.
10. 2021
Developer: